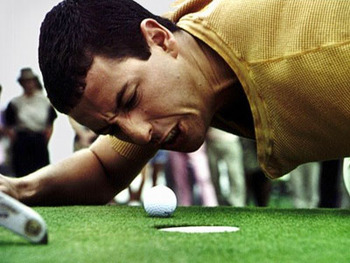 Today was our annual golf tournament. This is the 3rd year that I've participated in this event. It's also the third time I've ever golfed! I do have to admit that it's quite fun and I have shown improvement since the first time...okay, so our team (we play best ball. You all hit the ball and you play from whoever gets the closest) was 14 over par and we had to quit 6 holes early...it was still fun.

On the bright side, I actually didn't lose my ball the whole game! I found it every time! I did realize that I need to practice putting though...hence my picture...this is how I felt.
"Why won't you go in the hole?!" But I will do it again next year, maybe I'll hit the driving range and putt-putt in the mean time.